THE 87 RIDDIM
"Bands Man – Mix Mi Proppa"!!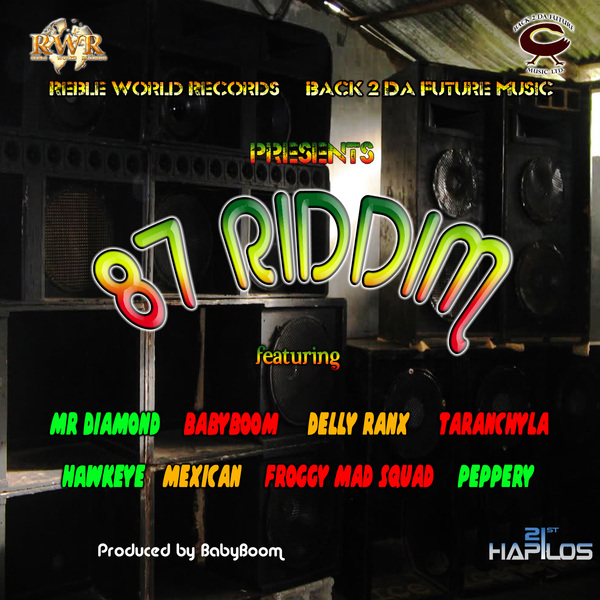 My Inspiration for this Riddim came from listening to riddims from the time of the authentic dancehall era of the 1980's. Riddim's like the Stagalag,  Sleng Teng, Answer, Sick & Tempo just to name a few. Riddims that even WITHOUT artists could set a dance afire!!!!
I wanted to bring back the feel from them time deh.
Being an artist aswell as a producer/ song writer I was determined to build a riddim which brought listeners and artists back to the 80's with a modern accent. The 87riddim also has the feel of a Live band stage show mix in the verses - just like when artist's in that era use to bawl out " MIX MI" Imagine (Sting, SunSplash, think Shabba, Ninja, Admiral Bailey on stage and you get the picture).
The  artists on the riddim who have brought this project to life are from Jamaica, America & The UK – namely; Delly Ranx, Hawkeye, Froggy Madd Squad, Taranchyla, Mr Diamond, Peppery, Mexican & myself, BabyBoom.
So sit back, turn the watts up high and grab a beer or a glass full of Hennessey and let's go back to the days of authentic dancehall as we bawl "Bands man – Mix Mi"!!!!!!.
BabyBoom C.E.O Reble World Records
Tracks
BUN UP IT                                      TARANCHYLA
DEM AH SISSY                              MR DIAMOND
GANJA SMOKE                              DELLY RANX
GOOD SO                                       PEPPERY
J.A.M.A.I.C.A                                   FROGGY MADDSQUAD
POSITION FI MI -(EDIT)                 HAWKEYE
POSITION FI MI -(RAW)                 HAWKEYE
TELL DEM                                       MEXICAN
WHO NUH RATE WE-  (EDIT)        BABYBOOM
WHO NUH RATE WE-(RAW)          BABYBOOM
87 Riddim is available on all Major Download Platformsvia 21st Hapilos  Feb 26th2013